www.audiotubes.com
BRENT JESSEE RECORDING & SUPPLY, INC.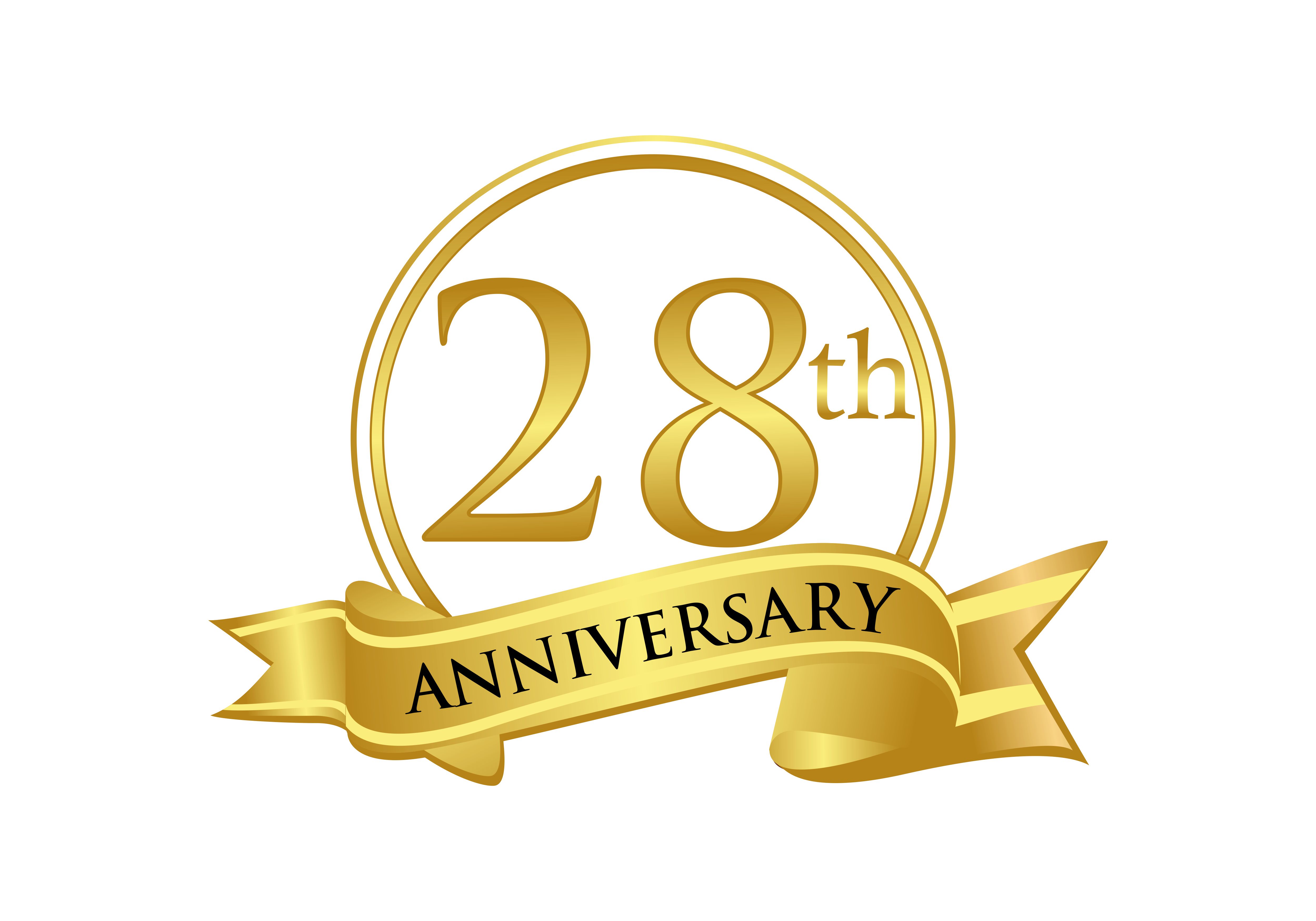 1590 West Algonquin Road #111
Hoffman Estates, IL 60192
Voice Phone 847-496-4546, Monday-Friday 8AM to 4PM USA Central Time
If busy, during Weekday business hours only, alternate phone 847-345-8046
FAX only 847-963-1568, 24 hours a day, 7 days a week
e-mail: brentjes@audiotubes.com
INTERCHANGE CHART OF SOME POPULAR RUSSIAN AND CHINESE TUBES
---
It is a long page, use your scroll button and scroll down the page to see it all.
Many current and recent production amps and preamps are supplied with Russian or Chinese tubes. The more popular of these have type designations that are difficult to find, and there often is an air of mystery surrounding what exactly they are. Here, I am listing a chart full of the most popular Russian and Chinese tubes found in hi-fi and professional recording equipment, and the most similar USA and European tubes for each one. This may help you keep a fine amp or preamp running when the exact Russian or Chinese tubes cannot be found. As a general rule, New Old Stock European or USA equivalent tubes will outperform and outlast Russian or Chinese stock tubes, so it is worthwhile to look into the possibility of re-tubing your equipment with NOS tubes. CAUTION: Never substitute a tube at random without doing your homework first! An incorrect substitute can possibly fail and cause damage to your amp. Other hazards include overheating of the transformer or related circuitry if the filament current draw is higher in the substitute tube, causing a possible fire hazard and personal injury, or property damage. This guide is a reference only, not all substitutes will work in every piece of equipment. Brent Jessee Recording provides this reference at no charge, and believes the material in it is accurate. However, we do not make any claims as to the final accuracy of this list, and cannot be responsible for any loss, injury or damages that may be sustained from using any substitute tubes in this list. ALWAYS OBTAIN PROFESSIONAL GUIDANCE ABOUT TUBE SUBSTITUTIONS, FROM THE MANUFACTURER, DEALER, OR AUTHORIZED SERVICER OF YOUR EQUIPMENT BEFORE YOU TRY SUBSTITUTE TUBES!
An Important Note About NOS Tubes. Please Read.
Return to the Audiophile tube page.
e-mail me at brentjes@audiotubes.com
---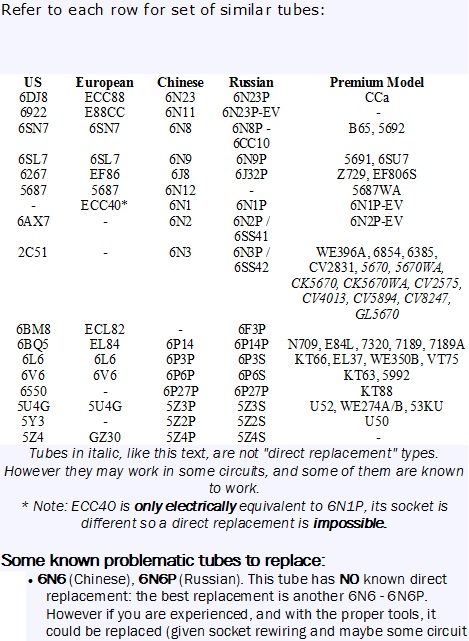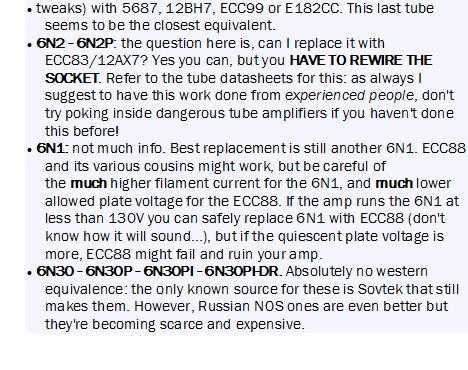 ---
NOTES AND UPDATES:
There are other Russian versions of the 6SN7 tube. The most popular is the rare 6H8C metal base with "1578" printed on the glass. There are also Russian 6N8S in both metal and plastic base, that are considered inferior to the 6H8C.
There are other European versions of the 6SN7: most notably the rare ECC32, the ECC33, and the military CV-1988.
There is another European version of the 6SL7: the ECC35, and military types CV1984, CV1985, CV569.
There is another European version of the 5U4G: the GZ31.
There are other European versions of the 5Z4: the GZ32, GZ33, and the U77 may be found.
US: 5U4G = European GZ31 = Chinese 5Z4P, 5Z4G (see note below) = Russian 5Z3S, 5Z4S = Premium/industrial U77, U52, 53KU, W-E 274A/B, VT-244
US: 6AJ8 = European ECH81 = Chinese 6C12 = Russian: none
US: 6AK5 = European EF95 = Chinese 6J1 = Russian 6J1B = Premium/industrial 5591
US: 6AQ5 = European EL90 = Chinese 6P1(has 9 pin base, needs adaptor) = Russian unknown = Premium/industrial 6005, 6AQ5W, 6095, M8245, 6928, N727, BPM04, 6L31
US: 6AS7 = European 6080 = Chinese 6N5P = Russian 6N5P? = Premium/industrial 6080, 5998, 421A
US: 6AX7 - European none = Chinese 6N2, 6H2N = Russian 6N2P-EB, 6N2 pi
US: 6R4 = European EC81 = Chinese 6C11 = Russian: none
US: 5842 = European EC86, PC86 = Chinese unknown = Russian 6S3P = Premium version W-E 417A
US: 6688 = European E180F, E280F (this is closer to a 7722), EF861 = Chinese 6J9P = Russian 6J11, 6J11P, 6J11P-E, 6ZH11P-E
Note: The Chinese 5Z4, 5Z4P and 5Z4G can sometimes be replaced with a US NOS 5Z4, 5Y3GT, 5U4G, 5R4, and even 5AR4. The Chinese 5Z4 series has a 2 amp filament draw, some of these other tubes are higher. Most manufacturers using the 5Z4 can tell you which NOS tubes are approved for use in their equipment. Always check first!
The 6C33 Russian tube is another that has no Western OR Chinese sub. NOS Russian versions are the best, but are scarce and expensive. Versions that should work interchangably are the 6C33B, 6C33C, and the 6C18C, but check with your equipment dealer first!
The Chinese 6P1 and the Russian equivalent 6P1P also have no Western equal. The only other sub is the Russian 6N1N. These are all electrically like the USA 6AQ5, but have a 9 pin base, making adaptation difficult.
The Russian 6Pi14Pi is another version of the 6P14P and Chinese 6P14. CAUTION: Some amps designed around these Russian tubes make use of pin #1, with a voltage on that pin. NOS 6BQ5 and EL84 tubes are internally grounded at pin 1 and they will damage an amp designed for the Russian tubes if used! Check with your dealer to make sure you can use NOS 6BQ5/EL84 tubes if your amp comes stock with Russian tubes.
Russian 6N1P tubes SOMETIMES can be replaced with 6922, 7308, or 6DJ8 tubes. Some manufacturers approve this substitution, others do not. Check with them first. If the applied plate voltage of the 6N1P is less than 130 volts, then the substitution should work OK.
6H30, 6H30P, PI, or DR is a Russian tube with no exact Western subs. The Chinese 6N11 may work, but it is also low quality, so why bother? The pin connections are the same in the 6922, so if your unit does not exceed 125 volts on the tube plates, you may be able to use a much better NOS 6922. Check with your dealer or manufacturer.
12AX7 Chinese versions list both 6N2 and 6N4 types! Use caution as the 6N2 is also listed as a 6AX7 which would be a 6.3 volt heater. The internal pin connections of the 6N2 are the same as the type 6922. To use as a 12AX7 sub, pins 4 and 5 must be connected to heater power, and pin 9 to the second triode heater power. Specs on the 6N4 are unknown to us other than it is sold as a 12AX7 sub.
This list is by no means complete. E-mail or call us if you have questions. We will be adding to this list as more information becomes available.
---