WBDJ.....Rockin' The Internet!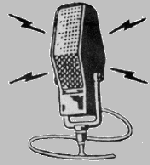 Click the RealAudio TV logo at page bottom to listen to WBDJ!


My first love, radio! Of course I was not content to just sit and listen. In November of 1970, I launched WBDJ, a micropower FM station in Aurora, Illinois, USA. Serving a four square block area (barely!), I served up a daily menu of all types of music and radio personalities, with the help of radio pirate friends. A few of the more technically minded friends started stations of their own, and within a few years the Consolidated Broadcast Network was born. Now with four strategically located transmitters, we covered a broader area, and had the time of our lives doing it.

Now, over 30 years later, WBDJ once again is reaching the public in a way undreamed of then, with a reach spanning not a few blocks, but the entire globe! It's called bitcasting, or Webcasting, and thanks to the RealAudio system, it can be delivered via a simple homepage on the Internet.

If you don't have the RealAudio player, you can click the logo above and get it for free. It installs right into your browser, and allows you to play RealAudio and RealVideo feeds from anywhere on the Internet, including WBDJ!

If you have the RealPlayer and are ready to listen to some great music, click the Real logo below and rock on! Then feel free to browse the rest of my site while you listen. I hope to have different shows available, updated at least monthly, so check back often to hear the latest broadcast. WBDJ, rockin' the Internet.....and the world.


If you have a 28.8k modem, click this Real logo to listen to WBDJ!

At Last!! New show number 8!




If you have a 56k modem, click this Real logo to listen to WBDJ!

At Last!! New show number 8!



---
Would you like your band on WBDJ?
I am always looking for new music to play on my radio shows. I enjoy giving unsigned bands, artists, and indie labels airtime, since I know getting a break in the music biz is tough. If your band or music fits our album oriented rock/classic rock format I would like to audition your airplay selection for an upcoming show. Please e-mail me for details!














WBDJ, the radio show, and entire page copyright © 2000, by Brent Jessee Recording.