www.audiotubes.com
BRENT JESSEE RECORDING & SUPPLY, INC.
VACUUM TUBE TESTERS FOR SALE
---
I have some vintage vacuum tube testers for sale, and are listed here on this page. Anyone who has a sizeable investment in vacuum tubes or vacuum tube hi-fi equipment owes it to themselves to have a good tube tester on hand to periodically check the tubes they are using. You can take a more active role in "tube rolling" as you can match your own pairs, and keep tabs on the tubes you are currently using and know well in advance of when replacement time is near.
Tube testers have been out of production since the late 1970s, and supplies are only fair at this time. The prices have been steadily on the rise, especially with the frenzied buying of certain vintage testers on eBay and other online auction sites. Some of these sell prices of certain brands and models are grossly inflated. Hopefully on this webpage I can present good vintage tube testers at reasonable prices, away from the frenzy of the online auctionplace.
NEW! Lodestar Audio Frequency Generator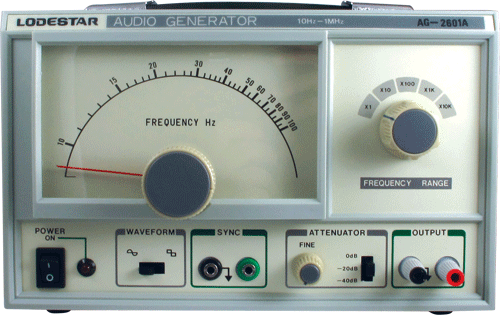 The oscillation frequency range of this audio generator is between voice frequency band and super voice frequency band, with a total range up to 1 MHz. Square and sine wave. 10K ohm input impedance, 10 V rms maximum input voltage. Professional 600 ohm output impedance, can be used in broadcast, industrial, and home audio applications. When connected into your audio system, can be used for a full frequency sweep to determine overall system frequency response, room acoustic dead spots and other sonic image problems, and performance of speakers, preamps, and amps. Can also be used as an audio tone recording reference for standard levels of 0dB or 0VU for setting up recording and playback equipment. Equipped with synchronized input terminals, enabling the high power output signals to be accurately controlled by small signals. comes with test lead and ground lead. 5.9" high x 9.8" wide x 5.1"deep. 8 lbs.
FEATURES AND SPECIFICATIONS:
High frequency stability: within +/- 2Hz.
Frequency range - 10 Hz ~ 1 MHz, 5 decade bands
Accuracy = 10Hz ~ 1 MHz - +/- 5% + 2Hz
Output control- 0dB/-20dB/-40dB and fine adjuster
100 Hz ~ 100 KHz +/- 3% + 3 Hz
Output Voltage Floating: within +/- 1.5dB
Sine wave and square wave, for audio reference, and repair work.
Professional 600 ohm output impedance.
Brand new units, not used or rebuilt. Come with 90 day defect warranty.
Housed in a compact, handsome and rugged case.
120 V AC, North American plug.
$189.95 plus insured shipping.
---
NOTE: This audio generator is not self amplified and does not have an internal speaker or amplified output that can directly drive an external loudspeaker. It must be connected to other equipment in order for the audio frequencies it generates to be used for calibration or alignment, or to an audio amplifier in order to reproduce the frequencies through a loudspeaker. CLIENTS OUTSIDE THE USA: This unit weighs 8 pounds and the box is bulky. Please understand that proper shipping to protect the instrument will be costly. Please contact us for a shipping quote.
NOTE: This test instrument is only recommended for those who have electrical safety training. There are dangerous voltages inside of any amplifier, and opening an amp exposes the user to these hazardous voltages. The Audio Generator is not recommended for those without training in basic electronics, amplifier servicing, or those not qualified or trained to work on electronics.
MORE TUBE TESTERS COMING VERY SOON, PLEASE BOOKMARK THIS PAGE!!!
Questions? Call us at 847-496-4546 from 8 AM until 4 PM, Monday through Friday, USA Central Standard Time. Or, e-mail us.

---
Click here for a printable order form. Use your "back" button to return to this page.
Return to the Audiophile tube page.
NEW! Order tubes or merchandise online using your credit card! Click here:


---