www.audiotubes.com
BRENT JESSEE RECORDING & SUPPLY, INC.
VACUUM TUBE TESTERS FOR SALE
---
I have some vintage vacuum tube testers for sale, and are listed here on this page. Anyone who has a sizeable investment in vacuum tubes or vacuum tube hi-fi equipment owes it to themselves to have a good tube tester on hand to periodically check the tubes they are using. You can take a more active role in "tube rolling" as you can match your own pairs, and keep tabs on the tubes you are currently using and know well in advance of when replacement time is near.
Tube testers have been out of production since the late 1970s, and supplies are only fair at this time. The prices have been steadily on the rise, especially with the frenzied buying of certain vintage testers on eBay and other online auction sites. Some of these sell prices of certain brands and models are grossly inflated. Hopefully on this webpage I can present good vintage tube testers at reasonable prices, away from the frenzy of the online auctionplace.
The TAD Bias Master Quad Bias and Matching Meter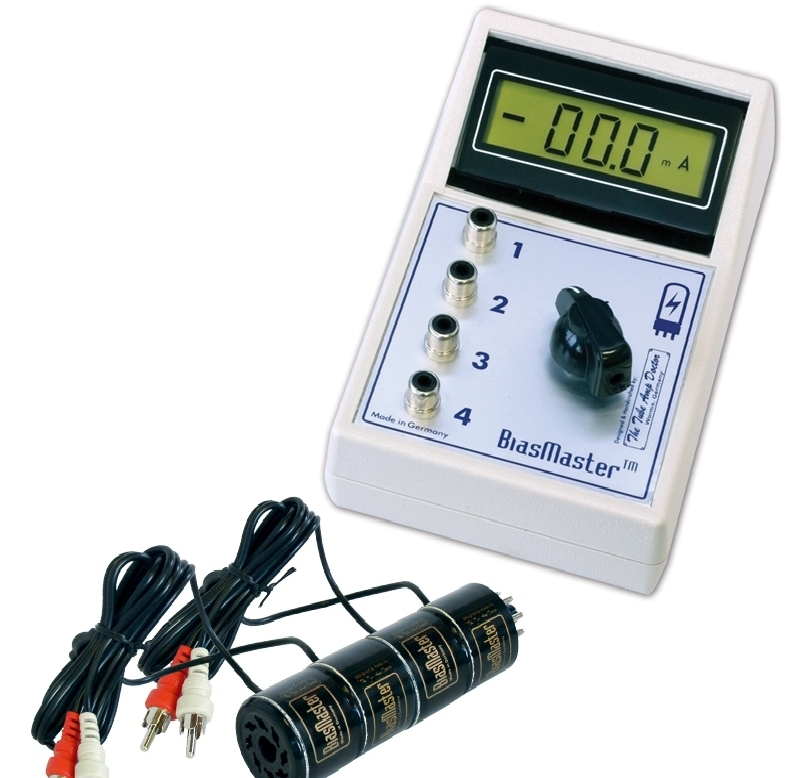 This very cool FOUR socket test meter lets you regain control over your amp's sonic output. Any time you replace power audio tubes the bias of your amp should be checked and/or adjusted. As power tubes age, the bias should periodically be rechecked and adjusted as needed, or the tubes replaced if they have drifted out of tolerance. This is a brand new currently manufactured unit, not used or refurbished, and we have many of these in stock. It is the top of the TAD bias meter line, the Bias Master, with no less than four octal test sockets. It has a fully digital display for ease of reading and matching up to four tubes at once, plus FOUR rugged cables with the test sockets attached. This unit is remarkably quick and easy to use. Works with 6L6, 6V6, 6F6, 6K6, 5881, EL34 / 6CA7, 7581, 7591, 7027, 6550, KT66, KT77, KT88 or any octal tube with the plate on pin 3. Can be used with guitar amps or hi-fi amps! You merely install the bias tool sockets into each pair of power tube sockets in your amp (up to four tubes at once), and then install the power tubes into the amp through the bias sockets. Turn on the amp, then check and adjust the bias current balance using the lab grade accurate digital meter display. You merely switch the rotary switch to select any of up to four tubes under test at the test meter to display the plate current of each tube. Powered by your amp. No AC mains connection needed so this meter can be used anywhere in the world. It is fast, accurate, and easy! Precision manufactured in Germany, with instructions in English and German. Highlights include:

Digital meter display, no voltmeter or digital VOM needed.
No switching sockets. FOUR cabled sockets included, front panel rotary switch to display plate current of each tube!
Measures true plate current under load in your own amp, the most accurate method to match power tubes.
Lab grade accuracy, current range of the meter is within the suggested range of all amps.
Four octal sockets connected by audio grade heavy cable. Install easily in your amp, then plug the power tubes into them.
Powered by your amp. Nothing else to plug in.
Works in any country of the world since it does not use the AC mains for power. We ship worldwide.
Set bias quickly, or match pairs of tubes using your own amp and this meter!
Owner's manual included.
Housed in a compact, handsome and rugged case.
Brand New Unit! Calibrated and complete with manufacturer's warranty!
$224.95 plus insured shipping.

---
NOTE: This test instrument is only recommended for those who have electrical safety training. There are dangerous voltages inside of any amplifier, and opening an amp exposes the user to these hazardous voltages. The TAD Bias Master Bias Meter is not recommended for those without training in basic electronics, amplifier servicing, or those not qualified or trained to work on electronics.
MORE TUBE TESTERS COMING VERY SOON, PLEASE BOOKMARK THIS PAGE!!!
Questions? Call us at 847-496-4546 from 8 AM until 4 PM, Monday through Friday, USA Central Standard Time. Or, e-mail us.

---
Click here for a printable order form. Use your "back" button to return to this page.
Return to the Audiophile tube page.
NEW! Order tubes or merchandise online using your credit card! Click here:


---